Handybin Secure Document Destruction Service is a locally run, Australian owned business launched in 2011. This new service is owned and managed by Handybin Waste Services (ABN 74 065 744 121) who have been providing comprehensive waste services to businesses and households on the Coffs Coast since 1992.
The secure document destruction service meets a need in the business, home office and residential community to securely dispose of documents and records that carry personal and confidential information.
The Privacy Act requires an organisation to "take reasonable steps to protect the personal information it holds". "Reasonable steps to destroy paper documents containing personal information includes shredding".
As a customer of Handybin's Secure Document Destruction service you may be assured that your confidential documents are in safe hands, and are destroyed under strict security, we guarantee it!
Our destruction facility is located onsite at the Coffs Coast Resource Recovery Park, is fully alarmed, and only accessible by pass code. We never use external contractors to collect your documents.
You can be confident that once your documents are collected, or you have dropped them off to us, no-one apart from our trained and security checked staff have access to them.
Once your documents are shredded, it is impossible to reconstruct them and they are commingled with other paper and cardboard then baled for recycling. "Now that's reassuring!"
Contact us today for your obligation free quote.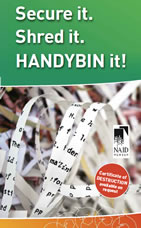 For more information on our secure document destruction service, please download a printable version of our brochure by clicking on the above link.