Lockable Wheelie Bins in 2 sizes
The same size as your household wheelie bin, the 240 litre bin suits a busy office environment. The 120 litre bin is half the size and compact, suiting smaller spaces such as home offices. Both bins are fitted with secure locks, paper slots in the lids and they are always kept neat and clean.
The paper slots in the lids are wide enough for standard files and documents; however it is impossible to remove papers without using the key. This feature gives you control over who accesses the contents of the bin. Two keys are supplied with each bin.
Disposal: We deliver and collect the bins from your premises
Prices: From $28.00 per bin (Special Offers now available)
---
Archive Boxes
As many records need to be kept for 7 years, businesses often have lots of archive boxes in storage. When it's time to destroy those records, it takes many hours of staff time to shred them internally. Our service will save you time, money and storage space by destroying those boxes of records offsite.
Whether the boxes are archive boxes, or just re-used packaging boxes, we accept them all and securely shred the documents for you; we can even shred the boxes if you don't want them back. All shredded paper and cardboard is recycled.
Disposal: We collect from you, or you drop off to us
Prices: From $6.00 per archive box (Special Offers now available)
---
Trailer and/or Car loads
There is no limit to the quantity of paper and cardboard that our machines can shred, so large volumes can easily be securely destroyed. Our facility is accessible by car, trailer and truck by prior arrangement. One of our professional, security checked staff will be on hand to assist.
It's so simple, call us to book a drop off time and just load your documents into your car boot or trailer and drop them off. We do the rest. Best of all, you do not have to remove paper clips, bull clips or staples.
Disposal: You drop off to us (Please phone us first to pre-arrange a time)
Prices: From 55 cents per kilo (ie. 1/2 tonne shredded for $275 – now that's value!)
---
Larger Clean-ups
It's amazing how much paper and documents build up over time. Every now and then we all need to have a big clean out at home, or at work.
Information on many of your documents carries personal or financial information. No one wants that type of information falling into the wrong hands.
Simply pack your documents into boxes or bags then call us for an obligation free quote. We will then book a date and time to collect it from you. It's hassle free, secure, and convenient; leaving you more time… and space in which to work or play.
Disposal: We collect from you after acceptance of our quote
Prices: Call us for an obligation free quote.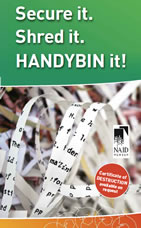 For more information on our secure document destruction service, please download a printable version of our brochure by clicking on the above link.