Why shred your personal and business documents?
Home offices and small businesses should consider a regular cost effective shredding service for their own personal information and/or business records for many reasons, including:
---
Comply with privacy rules and regulations
In NSW there are three main laws that protect the privacy of individuals:


Federal Privacy Act 1988 (Cth)

Privacy and Personal Information Protection Act 1998 (NSW)

Health Records and Information Privacy Act 2002 (NSW)
Compliance with the various privacy rules and regulations are not only the law, it is simply good business practice.
The Privacy Act requires an organisation to "take reasonable steps to protect the personal information it holds". "Reasonable steps to destroy paper documents containing personal information includes shredding".
Not surprisingly, the National Privacy Principles (under the Act) also state that "Ordinarily, garbage disposal or recycling of intact documents are not secure means of destruction and should only be used for documents that are already in the public domain."
---
Save significant Time and Money
Many employers and small business owners are not aware of the cost of shredding confidential waste on site. It takes time, costs money and uses up valuable space.
An employee can take up to 8 hours to shred 80kgs of paper, or you could simply ask us for a wheelie bin to store these documents until we come to shred them. The savings are simple:
On-site shredding = 8 hours x $20 = $160
Handybin Shredding service = $50 (depending on service type)
Savings = $110
The above calculations don't even take into account the initial cost of a shredder, running costs such as electricity and even then you still have to dispose of the shredded paper product!
So why not free up your staff to work on more profitable tasks. We can remove your full bin and replace it with an empty one with minimal disruption to your business.
---
Reduce the risk of Identity Fraud
Identity fraud is one of the fastest growing crimes in Australia and costs the Australian community billions of dollars every year. Although you may think it will never happen to you or your customers, someone could easily steal your identity and use it for fraudulent purposes.
The only real way to protect yourself and your customers from identity fraud is to ensure that all sensitive documents are shredded securely.
---
Meet Customer & Staff Privacy Expectations
Today privacy is an important issue in society. Most people are aware of privacy and in many cases it plays a role in any buying decision process. There is no doubt that in this day and age customers choose to do business with companies that treat their personal information with respect and confidentiality.
As employers, businesses also hold a great deal of private and personal information about employees. Employees are aware of this and when they can see that the employer respects their privacy with a simple act like securely shredding old personnel files, the net result is a productive and loyal team.
---
Do the right thing - Recycle your paper
All paper once securely shredded, is immediately baled with other paper and cardboard items recovered from our Material Recovery Facility (MRF) and sent off for recycling.
For every tonne of paper you send to us, you directly save:
13 Trees

2.5 Barrels of Oil

4 Cubic metres of Landfill

31,370 litres of water

4100 kW/h of electricity
---
Keep documents only as long as required
Are you guilty of retaining personal information and business records for longer than the required legislative timeframe eg. tax receipts? Do you have lots of unnecessary paper and documents lying around waiting for someone with the motivation to do a big cleanup?
A regular scheduled secure document disposal service means that you can easily control the amount of paper and documents that need storing at any given time. Why not store documents on a schedule that allows you to dispose of them in a timely manner, which means no unnecessary clutter and mess.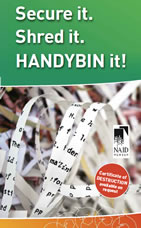 For more information on our secure document destruction service, please download a printable version of our brochure by clicking on the above link.